Master Class Infertility 3
After the great success that we experienced for the Master Class series 1 and Master Class series 2, we have planned to come up with the Master Class fertility series 3. The objective of this fertility series is to take the experience of the Master class Infertility 2 to the next level by having more international experts in the field. The Master class infertility 3 intends to raise awareness of new valuable techniques that will improve your skills and in turn will improve reproductive outcome for your patients. The course features interactive presentations and discussions with a practical approach.
The Master class Infertility 3 kicks off on the 9th & 10th of December 2017 and will cover topics ranging from IUI, PCOS, Ovulation Induction & Intrapartum Fetal Monitoring in great detail. This two days Master class Fertility 3 series addresses many of these challenges that couples are facing now a days when trying to conceive. Also the programme is designed in such a way that it gives enough opportunity for the audiences to participate and interact with the amazing panel of incredible experts.
About the organizing chairperson – Dr. Laxmi Shrikhande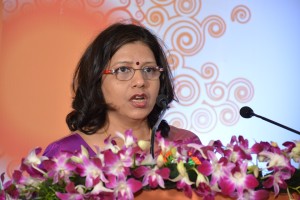 As one of the nation's acclaimed doctors, certified as an infertility specialists Dr.Laxmi Shrikhande is also a nationally recognized speaker on the various trending issue in infertility, a medical consultant and an author. She has over more than 25 years of rich experience in this field and is the co-founder of Shrikhande IVF and Research Centre along with her husband Dr. Anil Shrikhande a renowned urologist. Dr. Laxmi through her practice helps ladies and career minded women take control of their fertility. She is a subject matter expert in assisted fertility and surrogacy helping women and couple decrease the stress associated with this process.
Location
This well designed two days academic programme accompanied with memorable hospitality will be held in the beautiful orange city Nagpur, Maharashtra.
Expert International Panel for Master class Infertility 3
Faculty Members
Sir Sabaratnam Arulkumaran  – Former President of the Royal College of Obstetricians and Gynaecologists RCOG, Immediate Past President of the International Federation of Gynaecology and Obstetrics FIGO, and Past President of the British Medical Association BMA . He is professor emeritus of department of Obstetrics and Gynecology at St. George's University of London
Dr Luca Sabatini – Honorary Senior Lecturer at the Queen Mary University of London and the RCOG subspeciality training director.
Dr. Jyotsna Pundir – Consultant Reproductive Medicine specialist & minimal access surgery at St. Bartholomew's Hospital, London
Dr. Ruma Bhargava Chakraborty – Specialist Obstetrics & Gynaecology at Panacea Medical & Wellness Centre, Dubai
Dr. Anil Shrikhande – Convener – A Consultant Urologist, Andrologist & Kidney Transplant Surgeon with vast experience of 30 years
For more details please visit our website, also we have got some early bird discounts which we want you to benefit from. https://shrikhandeivf.com/master-class-infertility/
Tags: Infertility, Infertility Conference, IUI Training, Master Class Infertility 3, PCOS training