Endourology and Urinary Stone Disease
What is Endourology?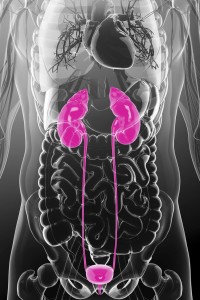 Endourology is a specific speciality in urology in which small internal endoscopes and instrumentation are used to see into the urinary tract and perform surgery. Urology is a speciality that deals with disorders related to male and female urinary tract and male reproductive organs.
Endourology distinguishes itself from conventional urology by doing all the procedures internally without any extensive incisions. Endourology is popularly known as minimally invasive urologic surgery to treat kidney stones. In this procedure the kidney stones are fragmented with the help of tiny instruments inserted into the body through the urethra, bladder and ureter or kidney. Thin, flexible instruments including lasers, graspers, miniature stone retrieval baskets, special scalpels, and cautery, are used to perform surgery without creating any incisions. Most of the endoscopic procedures are done with minimal stay or on an outpatient basis.
Endourological procedures include:
Urethroscopy: used to treat strictures or blockages of the urethra.
Cystoscopy: used to treat bladder stones and tumors. Obstructing prostate tissue can be removed with this approach as well (a procedure called "TURP"). Flexible plastic tubes called stents can be passed up the ureter using cystoscopy and C ARM x-rays to relieve blockage of the ureter.
Ureteroscopy: used to treat stones and tumors of the ureter.
Nephroscopy: used to treat stones and tumors of the kidney .
Endoscopic Procedures
Percutaneous Nephrolithotripsy/ Nephrolithotomy:
This word means. Percutaneous through the skin, Nephrolithotripsy is a combination of the word nephro- (kidney), litho-(stone) and -tomy (removal) and Nephrolithotripsy means nephro- (kidney), litho (stone), and -tripsy (crushed)
This procedure is carried out when the kidney stones of the patients are large i.e bigger than 2 cm and irregularly shaped and have not been broken down by shock wave lithotripsy (SWL). This procedure is done by entering the kidney through small incision made in the back and small instruments are threaded in through the hole, the surgeon is able to see the stone and based on the condition is either removed or broken and removed. If the stone is removed through the tube it is called nephrolithotomy and if it is broken down and removed it is called nephrolithotripsy.
What are the advantages of this procedure?
It is one of the most effective techniques to ensure that the patient is stone free. Even though it involves an small incision, it is less invasive than a full open surgery to treat the kidney stone. Takes lesser time to heal and fewer scars.
URETEROSCOPIC LITHOTRIPSY(URS)
Ureteroscopy is a procedure that involves the use of a small flexible or rigid device called a ureteroscope to directly see and treat stones. The ureteroscope device, which provides a video image and has small "working" channels, is inserted into the bladder and up the ureter until the stone is found. The stone is either broken up with a laser fiber or pulled out using small baskets that are inserted into the working channels.
What are the advantages of this procedure?
The advantage of this procedure is that the body's normal openings are used and no incisions are made. It is considered as a good option for small stones in the ureter or kidney with a high success rate as compared to the shockwave lithotripsy. This procedure normally takes an hour and can be done as an outpatient.
Why Shrikhande IVF Center
Our kidney stone management programme is well known for its personalized and precise approach to care. Our team of doctors with over 30 years of experience not only treat problematic stones, we also invest considerable time discovering why your stones occurred in the first place, so we can prevent them from returning. This involves a thorough evaluation of your medical history and crucial aspects of your day-to-day life, including your job, diet, habits. We run our own specialized laboratory to ensure that stone analysis is timely and accurate.