Patients look for infertility treatment and suggestion for just one reason to guide them to become pregnant. At Shrikhande IVF, therefore, we understand that no two patients are the same. Hence we offer personalised one to one care by our team of expert consultants in the field of fertility, gynaecology and urology, and we believe in giving honest advice and treatment in all forms of assisted conception, gynaecology, endoscopic surgery, and male infertility treatment, supporting our patients at every phase of their journey. Led by one of the country's leading gynaecologists, Dr. Laxmi Shrikhande and well-known urologist, Dr. Anil Shrikhande who play a vital role in explaining and conducting the treatment throughout the process.
Here are the profiles of some people you might meet.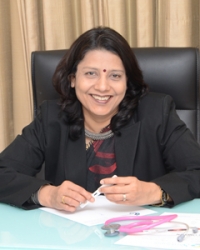 Dr. Laxmi Shrikhande is a Fertility Specialist, Laparoscopic Surgeon & no scar Hysterectomy Specialist with a vast experience of more than 25 years. Her focus is on delivering compassionate custom-made highest quality treatment to individuals according to their needs while incorporating the latest development in fertility. She is instrumental in bringing happiness to the lives of thousands of childless couples nationally and internationally. Her patients travel from every state in India, Europe, U.S.A, Middle East and Asia. Her patients include doctors, engineers, teachers, politicians, farmers, corporate professionals and lawyers.
Awards and recognition's
Dr. Laxmi has received Bharat Excellence Award for her work in the field of women empowerment.
She has received appreciation letter from Government of Maharashtra for her work in the field of Save the Girl Child.
Education
She has completed her MBBS, MD (OB/GY) in 1990 from GMC, Nagpur; she also worked as a Senior Registrar in Breach Candy Hospital, and as a Lecturer in Grant Medical College & Sir J. J. Hospital, Mumbai. She has been awarded 3 fellowships – Fellow of Indian College of Obstetrician & Gynaecologists, Fellow of Indian College of Medical Ultrasound, Fellow of Indian College of Maternal & Child Health. She also has international accreditation to her title for infertility treatment from John Hopkins University, America and recently accomplished her advanced training in Infertility from Belgium. She has specialized in removing uterus without giving any cuts on the abdomen. She has also started commercial surrogacy & commercial egg donation program at Nagpur.
Recent publications:
Dr.Laxmi presents her work regularly at national and international conferences and has published articles in many journals. She has published two books and has also contributed to more than 20 chapters in FOGSI and other publications. Her 11 research papers on low-cost IVF, polycystic ovaries & no scar hysterectomy are published in international journals. So far she has delivered 200 guest lectures and has presented her research papers at Malaysia, Taiwan, Sri Lanka, Rome and South Africa. At national level, she has 15 research papers to her credit. She offers advice to the community on fertility matters in television and radio programs.
Social Welfare
She believes in giving back to the society. As part of her social responsibility so far she has personally conducted adolescent health programmes in more than 45 schools & has sensitized almost 15,000 teenagers on various issues related to adolescent health. Her passion is creating awareness about women's health as they are the backbone of healthy society.
Dr. Anil M. Shrikhande is a Consultant Urologist & Kidney Transplant Surgeon with vast experience of 30 years. After completing his MBBS, MS (General Surgery) & M. Ch. (Urology) from Mumbai in 1989 he worked as Lecturer in Grant Medical College & Sir J. J. Hospital, Mumbai for 7 years. He is practicing in Nagpur since last 23 years & also offering his services as Honorary Associate Professor of Urology at Govt. Medical College & Super Specialty Hospital, Nagpur.
He has extensive experience in Endoscopic Treatment of Stone Disease, Prostate and Paediatric Urology, Reconstructive Urology for stricture urethra & Kidney Transplant. His special interests include treatment of Male Infertility, Impotence & Laparoscopic Urology.