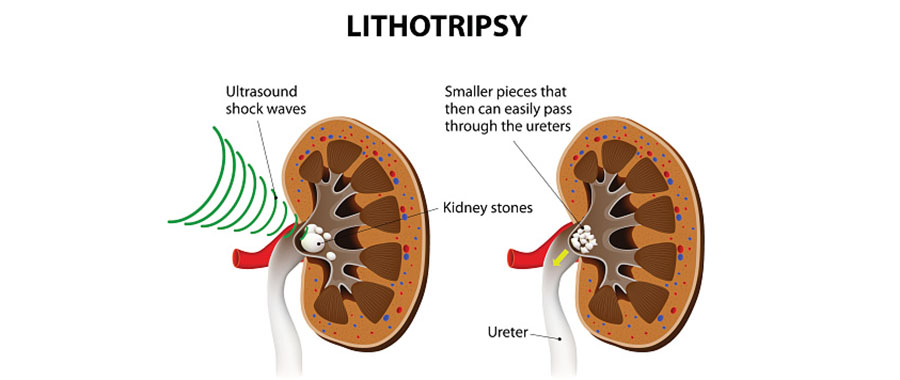 What is Lithotripsy?
Lithotripsy refers to a medical procedure that is used in the treatment of certain kidney stones. Unlike surgery, this treatment technique makes use of high-energy shock waves to fragment these hard masses that have been formed as a result of crystallization of minerals and other substances in the blood. Although these substances are supposed to exit the body naturally during urination and other excretory processes, they sometimes grow big making it hard to excrete from the body. Since these organs are really delicate, lithotripsy is considered a better option as compared to surgery.
Lithotripsy is divided into 2 techniques; Extracorporeal shock wave lithotripsy (ESWL) and Intracorporeal (Endoscopic) lithotripsy. In Extracorporeal shock wave lithotripsy, external shock waves are often focused at the stone to disintegrate it. In Intracorporeal lithotripsy, a flexible or rigid scope is used to direct mechanical or ultrasound energy to the stone for pulverization.
When is Lithotripsy Carried Out?
Lithotripsy is known to work great in fragmenting kidney stones into stone dust that can easily exit the organs naturally. While there are alternative treatment techniques, it is known to bear fewer side effects as compared to surgery among others. The size of the stones, their shape and position within these organs will greatly determine if extracorporeal or intracorporeal lithotripsy is the ideal treatment technique. Lithotripsy may be used to remove:
Kidney stones
Kidney stones that are causing pain, bleeding, urinary tract infections or damage to the patient's kidneys need removal. If the kidney stones are large then endoscopic lithotripsy, ureteroscopy or pcnl is done. Open surgery is the last option.
Steps Involved in Lithotripsy
Examination and testing
The doctor may take tests to determine your kidney function ,urine infection and sugar levels. The patient may be asked to stop taking any medication they are on such as blood thinners, aspirin among other drugs that may inhibit the blood's clotting ability.
Lithotripsy
A soft water-filled cushion is placed on the patient's abdomen or behind the kidney. An X-ray or ultrasound is used to precisely target the position of the stones, and a lithotripter machine used to direct between one thousand and two thousand shockwaves to crush these stones. Once the stones have been broken into very tiny pieces, they can be passed easily and naturally through the urinary system. The whole procedure takes between 45 to 60 minutes.
Recovery
Mostly performed as an outpatient procedure, the patient will be required to spend about 2 hours in recovery before being released. Rarely does it get to the point where the patient is required to stay overnight for observation, unless there are other complications such as fever. The patient will then be given pain relievers and antibiotics to help in the healing process. Complete recovery is expected to be between one and two days . Patients are also advised to take plenty of water for several weeks after lithotripsy to help flush out any remaining stone fragments.
Benefits of Lithotripsy
Being non-invasive, the recovery period is greatly reduced. There is also reduced risk of infection and bleeding as compared to surgery. Lithotripsy treatment takes just 45 to 60 minutes which is extremely fast as compared to surgery which may take hours to perform and months to heal completely.
Why Us?
As the most experienced doctors and surgeons working in the reproductive and urinary health niche, ShrikhandeIVF have been known to perform the most delicate, yet highly effective treatment procedures with great success. We care so much about our patients, and we strive to find the best treatment alternatives for your illness or condition you are suffering from. We are equipped with the most advanced medical equipment and laboratories to ensure that the treatment you get is the latest and most effective. Be sure to heal well and fast once you visit our clinic.We have holmium laser, pneumatic and other lithotripsy machines in our hospital.