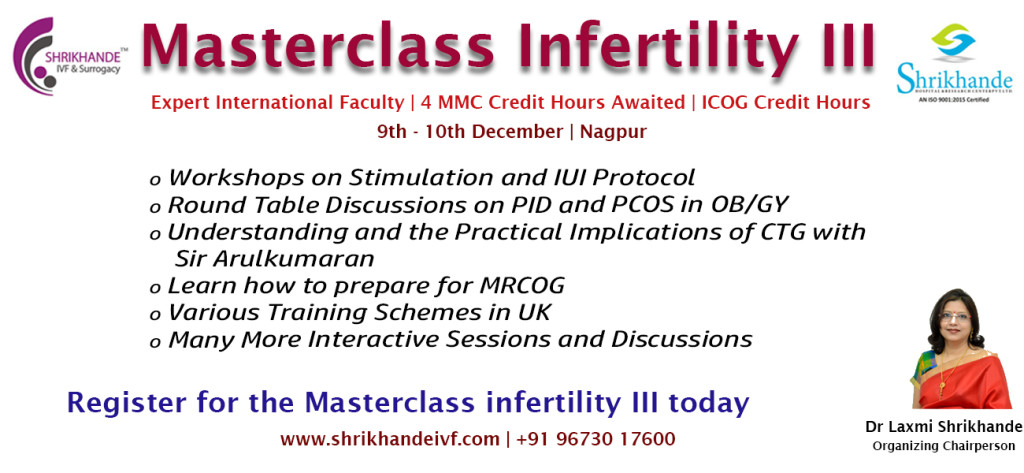 Book before 15th November for a discounted rate!!! Register Now!
Reasons for Registering:
5 Expert International Expert Faculty
Workshop 1: Stimulation and IUI Protocol
Workshop 2: Intrapartum Fetal Heart Rate Monitoring by Sir Arulkumaran
4 MMC Credits Hour Awaited. ICOG Credit Hours Awaited
Interactive Session with International Fertility Experts
Master Class Infertility III - Registration Form
Take a print of the Registration Form. Enter Your Details along with Payment Information. Scan a copy and send to shrikhandedrlaxmi@gmail.com
---
Dr. Laxmi Shrikhande is an expert in female infertility and Assisted Reproductive Technique (ART) with more than 25 years of clinical experience. You can be guaranteed of getting latest and most clinically relevant discussion.
FROM THIS MASTERCLASS YOU WILL
Know the principle causes and mechanisms of reduced fertility in males and females
Understand how to best recognize and assess the causes of infertility
Learn tested strategies to improve conception rate
Learn strategies on how to increase the chances of carrying to full term
Develop mindfulness expertise to improve reproductive physiology
WHAT YOU WILL RECEIVE?
Clear explanations of how to attain outstanding clinical results with patients struggling to conceive
Thorough investigation and explanation of the recommended tests, examinations of fertility and analysis of test results
A document of all presentation slides
Access to research papers and case studies
---
More Details Call – +91 9673017600 or Register Now !
Master Class Infertility 3 - Program Details
Register for the Masterclass Infertility III Now! Call - +91 9673017600
Master Class Infertility III - Registration Form
Take a print of the Registration Form. Enter Your Details along with Payment Information. Scan a copy and send to shrikhandedrlaxmi@gmail.com