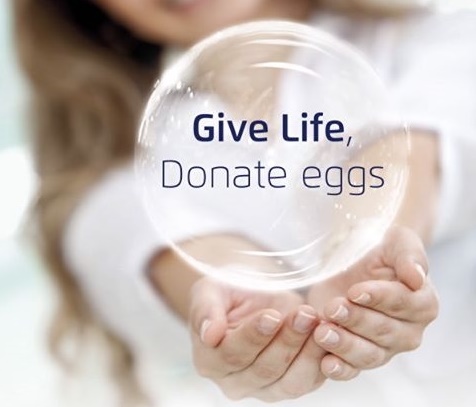 Infertility in women is a condition that affects at least 6% of the world's population. Although thought to be the most likely reason as to why couples can't have children of their own, scientific studies show that both men and women are equally likely to suffer from infertility. When a woman's eggs cannot generate a viable pregnancy or the chances of this happening are low, then egg donation may be advisable.
With its first successful pregnancy and birth recorded in Australia in 1983, and in America in 1984, egg donation has always been used to help infertile women and couples live their dream of having babies.
What is Egg Donation?
Egg donation refers to when a woman donates eggs to be used in assisted reproduction or biomedical research. When it comes to assisted reproduction, the donated eggs will be fertilized in the lab with viable sperm and then inserted into an infertile woman's uterus through a process referred to as In Vitro Fertilization or stored/frozen for later use. The egg donor is always anonymous.
When is Egg Donation carried out?
It is used in assisted reproduction, the most common known causes for couples turning to egg donation include:
Woman infertility
In cases, where the probability of the woman's eggs leading to a successful pregnancy is too low that it becomes more feasible not to perform IVF using her own eggs.
Women's fertility also seems to be affected by menopause which is dependent on the woman's age, some women experience early onset of menopause even in their early 20's and egg donation could be the most ideal procedure to get them pregnant successfully.
Some congenital conditions that may reduce or end the ability of ovaries to produce eggs like Turner syndrome and Gonadal dysgenesis.
Other conditions that are acquired within the woman's lifetime and may reduce the quantity and quality of the eggs include Oophorectomy, Chemotherapy, Radiotherapy and Autoimmunity among others.
Some cases of ovarian cysts, endometriosis
Premature ovarian failure because of any cause
Absence or damage of ovaries
While some women are born without ovaries, some usually have theirs damaged from accidents, diseases or other circumstances, having them surgically removed. Since the woman has no ovaries to produce eggs for fertilization, then it will be necessary to use donor eggs to make their pregnancy possible.
Genetic disorders in the woman
Some women have genetic disorders that may be dangerous for their offspring. This means that using their own eggs for fertilization will increase the probability of the offspring inheriting the genetic disorder. This necessitates the use of donor eggs. One of these conditions includes Turner syndrome.
Steps Involved in Egg Donation
Egg donation is a very delicate procedure that involves extraction of eggs from a fertile woman's ovaries to be used by another woman. The steps of egg donation are listed below.
Application and screening
The first step is usually recruiting of egg donors from those who have applied to be part of this initiative. There is a screening which includes medical, and psychological tests performed on the egg donor. It is a very selective step that ensures the egg donor is in perfect condition to donate their eggs.
Egg donor matching
After screening, prospective egg recipients will select their match of egg donors from the list of pre-screened egg donors. Before the eggs are retrieved, the agency or clinic should confirm if the match is viable. The egg donor will then be referred to a psychologist for counseling regarding their decision to donate their eggs and what it means to them.
Suppression and Ovarian Stimulation
After screening and signing of legal contracts if any, birth control pills will be administered to the donor to synchronize their cycle with that of the recipient. This ensures that ovulation occurs at the same time in the donor and recipient which is a perfect timing for egg donation and fertilization. After 1 to 3 weeks, there will be a series of injections administered to suppress the donor's ovaries from functioning. Then hormones will be given to the egg donor to stimulate their ovaries to produce eggs and increase the number of mature eggs. To monitor the donor's progress during this step, blood tests and ultrasounds are taken frequently.
Egg Retrieval
36 hours before the set time of egg retrieval, the donor is required to take one injection of HCG hormone. This ensures that the eggs are ready for harvesting. Egg retrieval involves a minimally invasive procedure whereby a small ultrasound-guided needle is directed through the vagina and cervix, into the uterus. It is then directed towards the ovaries, where it aspirates the follicles, extracting the eggs. This procedure takes 20 to 30 minutes under sedation. The eggs will then be used by the recipient right away, or stored/frozen for later use depending on the agreement signed.
Recovery
After egg extraction, the egg donor will be required to rest for 1 to 2 hours in the recovery room, after which they are released. While there may be a little abdominal cramping and faintness, most egg donors usually resume their normal routine the next day itself.
The process of egg donation requires the consent of the egg donor. Most countries require egg donors to be between 21 and 35 years of age, and there may be a little compensation and motivation paid to the egg donor. Each country varies in terms of the amount of money paid to the donor, and also if their donation will be known, semi-anonymous or anonymous.

Benefits of Egg Donation
Egg donation has its own share of benefits both to the donor and recipient. To the donors, they get paid for donating. To the recipient, it is a whole lot of joy as they get to have successful pregnancies and healthy kids of their own. It is one great procedure that has brought joy to infertile couples, most of whom had lost hope in having children. Egg donation is a very cost effective way of completing your family when your major problem is poor egg quality and also has a very high success rate. It also ensures no social pressures are involved in this option, as the donation is anonymous and confidential.
Why Us?
ShrikhandeIVF has great experience dealing with infertile couples; we understand the joy that comes with having a child. With our highly trained, qualified and certified professionals, you are in safe hands. We will treat you with utmost care, to ensure that your dream to get pregnant and have a baby becomes a reality. We welcome you to be part of our family, and no matter what your treatment needs are, we will ensure to satisfy them.